Then Satan entered into Judas Iscariot, who was one of the twelve disciples, and he went to the leading priest and captains of the Temple guard to discuss the best way to betray Jesus to them.

Luke 22: 3-4 NLT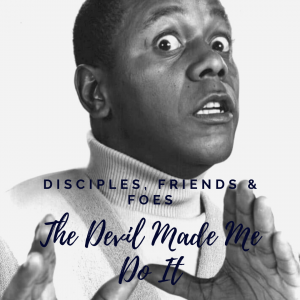 Do you remember the famous, funny comedian Flip Wilson who brought laughter into our homes in the early 70's?  He was known for his recurring character Geraldine and his famous one line, "The Devil Made Me Do It."
Well, I know a man in the bible whose actions and choices portrayed that unforgettable line, "The Devil Made Me Do It."
He was one of twelve men that hung out with Jesus. His assignment was to over- see the money bag. However, his love for money became the root of his evil intensions. Have you guessed who I am talking about? Well let me spell it out for you….
J- He thought that a Jar of costly perfume was too much to anoint Jesus's feet. 

U- He was Undeniably a thief and full of greed.

D– He was prompted by the Devil to betray Jesus.

A-He led soldiers to the garden of Gethsemane where they Arrested Jesus.

S– He Sold Jesus out for thirty pieces of silver.
If you guessed Judas Iscariot, you are correct, but he is not the only guilty one that I detect.
Keep reading this rhyme and see if you and I fit the crime.
One day, I turned my back on Jesus and did things my way, I allowed sin to win and the devil came in. 
I felt like Judas Iscariot when I sold Jesus out that day. 
But the Good News is that Jesus blood washed  ALL my sins away.
I am on a mission to let the whole world know just what Jesus did for me,
He suffered on the cross  and rose from the dead to set the captives free.
Are you a Sucker for satan or Satisfied with the Savior?

Prayer
Our Heavenly Father,
I am convinced that neither death nor life, neither angels nor demons, neither any powers, neither height nor depth, nor anything else in all creation, will be able to separate us from your love that is in Christ Jesus our Lord. Amen.
Romans 8:38-39 NIV