Martha became exasperated with finishing the numerous household chores in preparation for her guests, so she interrupted Jesus and said, "Lord, don't you think it's unfair that my sister left me to do all the work by myself? You should tell her to get up and help me." The Lord answered her, "Martha, my beloved Martha. Why are you upset and troubled, pulled away by all these many distractions? Mary has discovered the one thing most important by choosing to sit at my feet. She is undistracted, and I won't take this privilege from her." 

Luke 10:40-42 (TPT)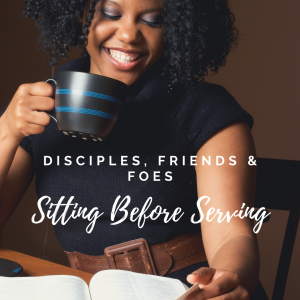 Most of us live busy lives. Life is filled with a plethora of daily duties. If we are not careful, we can get too busy and not spend time with God. Of course, all of us must work, especially if we want to eat. But how often does work and other things supersede spending time with God?
Trying to serve Christ or people without sitting at his feet is detrimental to our walk with God and for others. Jesus says, "without Me you can do nothing" (John 15:5 NKJV).
Let's learn a lesson from Mary. She chose to sit at Jesus' feet (worship, listen to and learn from him first) instead of serving like Martha. Both have their places in life, but we need to sit at Christ's feet before we serve people. 
Martha's problem was not that she had too much work to do, but that she allowed her work to distract her and pull her apart.  If serving Christ makes us difficult to live with, then Houston we have a problem, and something is incredibly wrong with our service. It suggests that we need to sit under Christ.
The key to life is putting our priorities in the right place. Jesus Christ is first, others, then us.  It is crucial that we spend time at the feet of Christ, listening and learning his word. Not spending time with God could cause us to be distracted, difficult to live with and disturb what God is doing. 
The most essential part of our day is being with God. Unless we meet Christ privately each day, we will soon end up like Martha; busy but not blessed.
Prayer:  Lord, help us to sit before we serve, that is to listen and learn from you so we can serve you better.