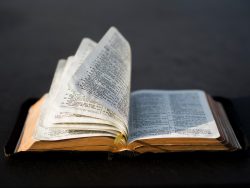 October 23, 2022
Numbers 14:1-9 (ERV) Easy to Read Version
1 That night all the people in the camp began shouting loudly.
2 The Israelites complained against Moses and Aaron. All the people came together and said to Moses and Aaron, "We should have died in Egypt or in the desert.
3 Did the Lord bring us to this new land to be killed in war? The enemy will kill us and take our wives and children! It would be better for us to go back to Egypt."
4 Then the people said to each other, "Let's choose another leader and go back to Egypt."
5 Moses and Aaron bowed low to the ground in front of all the people gathered there.
6 Joshua and Caleb became very upset. (Joshua son of Nun and Caleb son of Jephunneh were two of the men who explored the land.)
7 These two men said to all the Israelites gathered there, "The land that we saw is very good.
8 It is a land filled with many good things. If the Lord is pleased with us, he will lead us into that land. And he will give that land to us.
9 So don't turn against the Lord! Don't be afraid of the people in that land. We can defeat them. They have no protection, nothing to keep them safe. But we have the Lord with us, so don't be afraid!"
To Overcome Your Fears It Requires…
#1 A Helpful Admonition (Don't Turn Against the LORD)
#2 A Heavenly Assessment (We Can Defeat Them…)
#3 A Huge Advantage (We have the LORD with Us…)