Then James and John, the sons of Zebedee, came to him. "Teacher," they said, "we want you to do for us whatever we ask."

"What do you want me to do for you?" he asked.

They replied, "Let one of us sit at your right and the other at your left in your glory."

"You don't know what you are asking," Jesus said. "Can you drink the cup I drink or be baptized with the baptism I am baptized with?"

"We can," they answered.

Jesus said to them, "You will drink the cup I drink and be baptized with the baptism I am baptized with, but to sit at my right or left is not for me to grant. These places belong to those for whom they have been prepared."

When the ten heard about this, they became indignant with James and John. Jesus called them together and said, "You know that those who are regarded as rulers of the Gentiles lord it over them, and their high officials exercise authority over them. Not so with you. Instead, whoever wants to become great among you must be your servant, and whoever wants to be first must be slave of all. For even the Son of Man did not come to be served, but to serve, and to give his life as a ransom for many."

Mark 10:35-45 (NIV)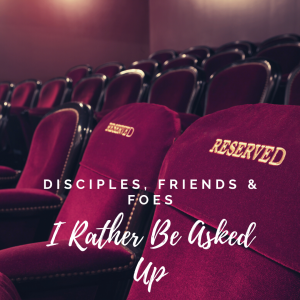 As a young preacher I've patterned myself after the Elder pastors and preachers in regards to "preacher's protocol". When there was such a thing as a "Pull – Pit", preachers took sitting high and being noticed very seriously. No lie, it felt great to sit next to my Pastor as the youngest preacher. It wasn't until I attended an evening Church anniversary service that I witnessed a great lesson in humility. 
While visiting my home church to show love and support I sat at the back not to bring attention to myself. An usher came and informed me the pastor asked me to sit with him in the pulpit. I could've refused seeing that there was only one seat left, but it would've been an insult, to some degree, if I chose to stay seated where I was.
I went to the pulpit and was greeted warmly by the pastor and familiar faces. I said to the pastor briefly,"the seat could have been used for the guests." He replied, "This side is reserved for my sons in ministry." It wasn't so with one of the guest associates. He came from the back without an usher to escort him and boldly proceeded to enter the pulpit. He was stopped by his pastor with a disturbed frown as he was asked to have a seat on the front row next to the deacons.
Wow! How embarrassing! You're told you can't sit where you feel you've earned the privilege!  John and James learned this same lesson in humility. They were Jesus's disciples. As if being associated with him wasn't enough they asked for "reserved seating" next to Jesus. Like the associate minister, they came to Jesus as if they earned the right! Denial was what they received as Jesus told them those seats are already assigned.

James and John were told in order to be great among others you have to be a servant and a slave (verse 44). To top it off Jesus tells them that he came not to be served but to serve, and die as ransom for many (verse 45). To posture for a position is one thing but to know the cost of that position is another. Matthew 23: 11-12, tells us the humble shall be exalted, and the exalted shall be humbled. I'd rather be asked up then to be asked down (NIV).
Closing thought:  As we remember Christ's ultimate sacrifices on the cross let us remember that the way up is through servitude and the way to be asked down is to act entitled. If we are faithful over a few things, God will make us rulers over many. (Matthew 25:21 KJV)