Do not be anxious about anything, but in every situation, by prayer and petition, with thanksgiving, present your requests to God. And the peace of God, which transcends all understanding, will guard your hearts and your minds in Christ Jesus.
Finally, brothers and sisters, whatever is true, whatever is noble, whatever is right, whatever is pure, whatever is lovely, whatever is admirable—if anything is excellent or praiseworthy—think about such things. Whatever you have learned or received or heard from me, or seen in me—put it into practice. And the God of peace will be with you.
Phil. 4:6-9 NIV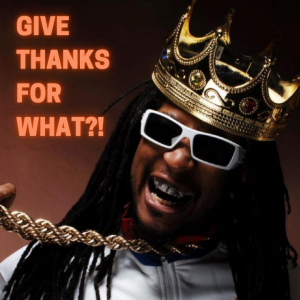 Thanksgiving is right around the corner, but it can be hard these days to find something to be grateful for.
Stuck in a lockdown that seems never ending, and missing important family events because of it

Civil/racial unrest

Political turmoil and an election season we thought would never end
The list of problems can go on and on, and these are just the things that affect everyone!
My personal list consists of:
A pregnancy that started like most, with overwhelming fatigue and aggressive morning sickness (by the way, I feel the term "morning sickness" is a misnomer since my sickness lasted all day. Maybe whomever came up with the term originally meant "mourning sickness," as in you're sad about losing your ability to function and eat.)

After returning to some sense of normalcy, suddenly needing emergency surgery and now having to recover.

My husband being furloughed for seven months.
I'm going to stop there, because I could rattle off more of these woes non-stop. But thankfully, that's not what the Scriptures encourage us to do.
When confronted by things that put us on edge or make us worry, Paul tells us our best course of action consists of three things:
Prayer and petition to God

Give thanks to God

Shift your focus
All of these instructions are linked and feed back into one another. Whenever I'm feeling overwhelmed, anxious, or generally sorry for myself, I recite vs. 8-9 and start applying them to my situation. Frequently, simply acknowledging the truth about my situation will lead me to thanking God for what He's done, and leaving my other concerns at His feet.
My first trimester was really rough, but it's also true that working from home meant I could cozy up on my own couch when I felt terrible instead of hiding in a bathroom at work. I truly thank God for allowing me this mercy.

My husband has been furloughed for more than half the year, but we have never been in need. I have no clue what's going to happen moving forward, but I bring my other concerns to God knowing that He has always been faithful.

I did need emergency surgery, but because my husband does not have his regular job, he's been available to help me immensely. I've also been reminded of the kindness of friends, family, and our church as I recover.
These are just a few examples from my life, but how about you? What truth can you focus on instead of your problem? How has God blessed you in the midst of these uncertain times? What things out of your control do you need to leave at His feet? There is always something to give thanks for, if you take the time to look a little deeper.